Tractor Tyres & Agricultural Tyres
Rough agricultural terrain requires a tractor tyre that is resistant to irregular wear, abrasion and puncture. We stock tractor tyres to meet the needs of your vehicle on dry or wet soil, field or road. Whatever ground you have to cover, a Beaurepaires tyre professional can help you find the best agricultural tyres to meet the challenges of your industry. Use our store locator to find your closest specialist or call 13 23 81 to be connected with your local store.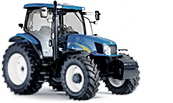 Tractors and agricultural vehicles need the strongest tyres possible. At Beaurepaires, you can find the most durable and strongest tyres, which will provide you with a more efficient vehicle. To find out more about tyres for tractors and agricultural vehicles, please read our information below.
What Is Important for a Tractor or Agricultural Tyre?
A tyre for a tractor or agricultural vehicle must be considerably stronger than the average passenger tyre or commercial vehicle tyre. The reason for that is quite simple, considering the fact that tractors and agricultural vehicles often come in contact with rough on-road and off-road conditions.
The biggest problems with tractor and agricultural vehicle tyres are abrasions and irregular wear, considering the surface drivers of tractors and agricultural vehicles often find themselves on. However, on Beaurepaires customers can find tyres that match these demands and guarantee protection against these common types of damage.
Are There Different Tyres for Different Types of Soil?
Tractor and agricultural vehicle tyres can be compared to passenger tyres and commercial vehicle tyres in one aspect – the properties they can deliver on certain surfaces. For example, if the driver of the tractor often deals with dry conditions, such as small pebbles or debris, there will be a need for a tyre that can handle these kinds of surface conditions.
Beaurepaires can provide customers with tyres for various on-road and off-road conditions, whether they are meant for dry soil, wet soil, fields or roads. We also have tyres that provide a combination of properties, so they can be used on a variety of surfaces.
Tips for the Maintenance and Fitting of Tractor and Agricultural Vehicle Tyres?
First of all, a good tractor tyre must always have the right pressure. If the tyre in question does not have the right pressure, it can lead to water stagnation on the land, limited development of microbial life, loss of yield and excess operating costs.
There is also a difference between overinflation and underinflation. Overinflation can cause an excessive amount of spin in the fields. When using these tyres on the road, they can also cause irregular wear on the lugs, given the fact that the footprint of the respective tyre is too small. Underinflation can also cause serious problems, given the fact that it can cause irreparable damage to your tyre casings.
Tyre pressure for agricultural vehicles and tractors can be a little more complicated than tyre pressure for cars or small commercial vehicles. In order to determine the right tyre pressure, there are four different criteria that you have to take into account. These criteria are tyre size, maximum speed, total amount of supported weight and operating use. Due to the large amount of denominators, mistakes with tyre pressure for agricultural vehicles and tractors are more common than most people think.
In order to avoid such problems when purchasing new tyres for your agricultural vehicle or tractor, we recommend having the new tyres fitted by a Beaurepaires professional. The fitting is included in the purchase price of the tyre, so you will not have to pay anything on top to ensure your new purchase works to the maximum of its capabilities.